chicago connection
our story
In 1982 Chicago Connection Pizza was founded in Boise, Idaho, introducing a great Chicago-style deep dish pizza. The first location on Fairview Avenue offered Boise the same style pizza that is a staple for pizza fans in Chicago.
In only a few shorts months, the pizza became such a hit that a second location opened on Overland Road. As Boise and the Valley grew, Chicago Connection Pizza opened another location in downtown Boise at 4th and Bannock, near the state Capitol and St. Luke's Hospital. As outlying areas began to demand "the better pizza" and the area's only hot oven delivery trucks, locations were opened in Eagle, Meridian, and Nampa. Our kitchens developed "Lasagna Pie" combining our deep-dish pizza crust with all the ingredients that make lasagna a real family favorite. We have had lasagna pie fans for almost forty years, who have made it a signature selection at Chicago Connection Pizza!
Chicago Connection Pizza has developed a reputation for the freshest ingredients, an abundance of cheese on its pizza, the Treasure Valley's freshest salad bars, tasty pastas, breadsticks and hearty sandwiches. Chicago Connection Pizza delivers "the better pizza" with every order. And now, there's a Chicago Connection Pizza pizza made with gluten free crust topped with our delicious sauces and toppings for those who need to restrict their intake of gluten products. Residents throughout the Treasure Valley have long known us by our fleet of the area's only Hot Oven Express trucks. Traveling local streets and covering more than a million miles a year, our trucks have been a part of Idaho since 1982. There's bound to be a truck delivering in your neighborhood. And don't forget to call our store nearest you to help serve your group… from a few to 1,000.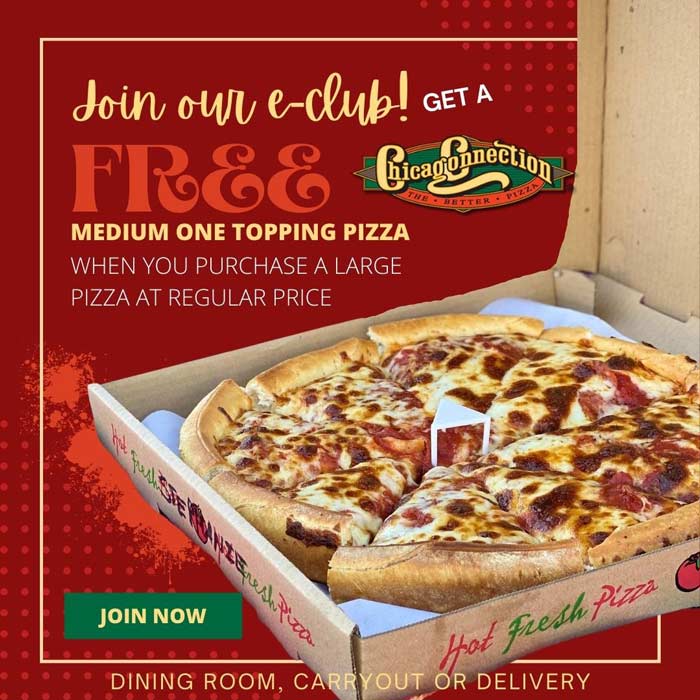 Take a moment to join the Chicago Connection Pizza email list for EXCLUSIVE CONTESTS, OFFERS & SPECIALS. Shortly following your submission of joining our eClub, you will receive an email with an offer for a FREE MEDIUM one-topping PIZZA when you purchase a Large Pizza at Regular Price. Good for dining room, carryout or delivery. Please add our email address to your contacts list, so that we are not filtered out by your spam filter. Thanks for joining our eClub, and we look forward to sending you more opportunities to save at Chicago Connection. You will eligible to win Incredible prizes!
*Chicago Connection will not rent, sell, or otherwise give out your contact information to third parties. When you provide us with contact information in connection with a particular activity, including an email address or telephone number ("contact information"), your action constitutes establishing a business relationship with us. You consent to our communicating with you using the contact information you provide to us.
From our food to our team, we're breaking down what makes Chicago Connection the better pizza.
We Drive... So You Don't Have To
Chicago Connection delivers in the Treasure Valley's only fleet of hot oven trucks. It is the small things like getting your pizza hot and fresh in under an hour that makes our pizza better.
Chicago Connection Loves Parties
Pizza parties are best parties!
Authentic Deep Dish Pizza Delivered in Our Hot Oven Trucks